Buying Tips on Checkout Counter for Your Supermarket
Views:200 Author:Site Editor Publish Time: 2019-09-20 Origin:Site
Now many shop owners have begin to pay attention to the purchase of the checkout counter. Because a store checkout counter is just like the face of a store, in addition to trading with guests, it is more like a shop sign as a store to attract customers. Therefore, the checkout counter is a place where transactions are made with the guests. If you choose a good one, there are still a lot of them. There are so many counters such as supermarket cash counter,stainless steel cash counter, supermarket checkout counter etc. So how to buy the checkout counter, what are the buying skills?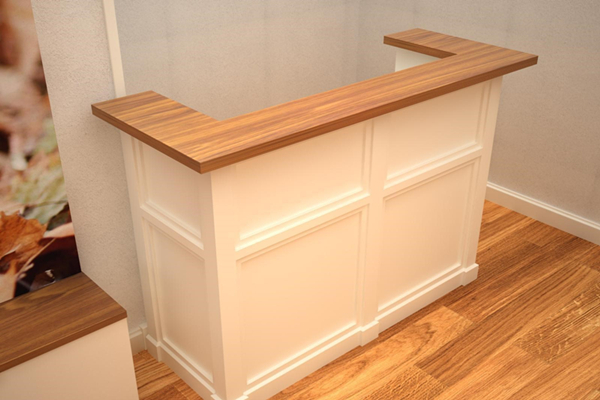 First: Choose a well-designed counter according to the designing style of the shop
It is said that the shop decoration determines the fate of the store, and the good shop decoration can make the store full of style. Improve the customer's experience in the store and increase the store's grade. How the store interior is gorgeous during the renovation, and the design of the cashier as one of the store's doors is also ugly, which will also reduce the interest of customers in the store. Therefore, the design of a checkout counter can play a role in attracting guests' attention.
Second: It should be easy for guests and cashiers to operate
Some clothing stores, or retail stores should not choose a checkout counter that is too small when purchasing a checkout counter. Because when the customer buys a good item at the store, it is impossible to hand over the purchased items to the floor. Therefore, if you want a good experience for your customers, you need to choose some wide cashiers, so that you can put items on top and make it easier for cashiers to settle. The purchase of the checkout counter needs to be purchased in conjunction with the actual situation.
Third: improve operational efficiency and reduce queuing time
The most annoying thing for customers to go to the store is to wait for the old team. The design of the checkout counter plays a very important role. A good cashier can reduce the floor space and improve the efficiency while also facilitating the cashier's operation. Reduce guest waiting time. Avoid the idea of giving up on spending because of long queues. Therefore, when purchasing the size of the checkout counter, it is necessary to consider the size of the store and the flow of people and the number of cashiers and whether the checkout design is scientific and practical.