The Difference Between Motorized Checkout Counter and Express Checkout Counter
Views:134 Author:datang Publish Time: 2019-08-07 Origin:Site
The checkout counters have always been an indispensable element in any business worth its salt. A simple way to manage and store money, and perform calculations in a convenient and fast way. The improvements in technology issues have also been applied in the checkout counters, so today these devices work in an optimal way.
By way of comparison, the motorized checkout counters are a bit of a technological advancement of the conventional checkout counters as we had them before. The express checkout counters come in handy to make work a lot easier for the cashier when attending to shoppers.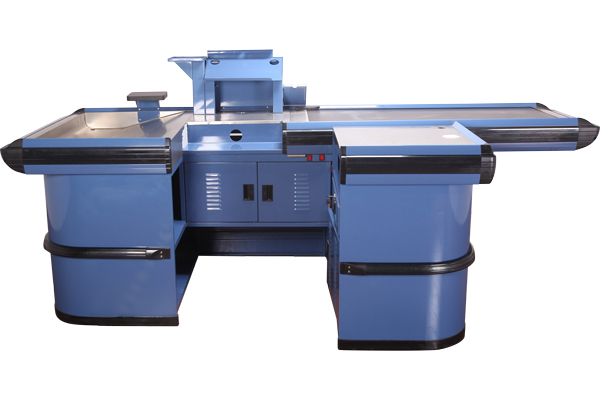 In general, almost all checkout counters for retail stores have similar characteristics, only that more modern or higher-priced models also have superior functionalities. These differences are given by details such as the number of departments that have the drawers where the money is placed, how many payment methods they admit, if it is possible to charge with more than one currency number or how many cashier numbers can be programmed.
As regards the payment methods, the ideal thing is that the express checkout counter has 4 possibilities: payment of card, check, loading cash and the key means of bidding. When we talk about the cashier numbers we mean the number of people that can be quantified at the same time, so that we can know at all times the activity of each of the employees. Identification codes will allow each person to operate from their own profile.
However, the slight differences can as well be seen in special designs like the motorized checkout counters with special features which are advancements to the conventional models. For example, we have the supermarket checkout counter with conveyor belt. This makes it a lot easier to move items bought by customers with relative ease while increasing the efficiency of the registry process. Yes, you won't have to keep your shoppers standing.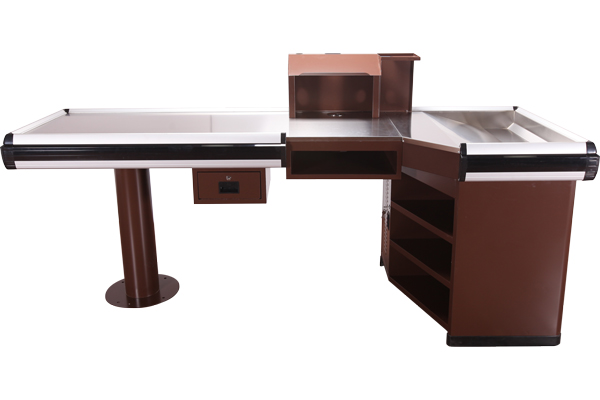 Some of the features of the motorized checkout counters include the following;
The checkout counter is designed with an aluminum plastic border or an Aluminum alloy, so you can make your choice.




It is possible to completely change the place for the cashier either in the right or the left side and depends entirely on your choice. You can access the numerous convenience store checkout counter for sale in the market today.




Top board with plastic bumper and a polished stainless steel.




There is relatively more space to contain the cash registry attendant as the width of the table board steel and main body is more; at 1.0 mm.




The structure is more stable and solid. In addition, it has a neat and nice appearance which makes it the most sort after by those at home and elsewhere for retail businesses.




They are designed with accessories such as keyboard holders, shopping bag holders and more to make work a lot easier.
To learn more about new modifications in the checkout counter you can contact competent and reputable retail checkout counter suppliers.