What Are The Primary Types of Checkouts Counters for Retail Stores?
Views:230 Author:datang Publish Time: 2019-11-06 Origin:Site
Checkout counters for retail stores can play a significant role in increasing sales. Therefore, it is important to choose the best retail checkout counter to optimize sales. Here it is important to state that checkout counters come in different types. So, you must select the right one for your retail store.
Cash counters stations are the biggest furniture pieces in any retail store. These are the key purchase point for customers and their importance is often highlighted with their size. Modular or single retail checkout counters are also known as sales or service display fixtures. These checkout counters can help retail stores monitor traffic flow, promote products, and develop customer relationships. All these factors have a direct influence on sales volume. No matter what retail establishment you have, whether it is chain department stores, warehouse-style wholesale distributors or single-operation boutiques, checkout counters must perform 2 basic functions to operate successfully. First, all potential customers must be informed about available merchandise. Second, they must complete a transaction with the customer.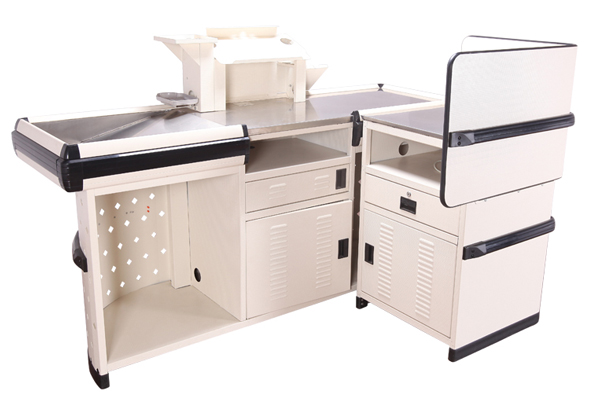 Functional and attractive checkout counters for retail stores are the main operating element in a retail store as they include transaction stands and visual merchandising fixtures, thus facilitating both mandatory operational functions for prosperous retailing.
Primary types of a checkout counter
Retail checkout counters are available in different types depending on the needs of retail stores. Here in this section, we are going to discuss the primary types of checkout counters for retail stores. Let's have a look.
1. Cash wrap counters
The terminology "cash wrap" is originated from the counter area inside a store where:
(a) Cash was given for merchandise/goods
(b) Goods/merchandise were packed for transport to home
Nowadays, cash wrap counters for retail stores are modular service and sales display fixtures that serve several functions. Some of the common types include glass-front display countertops, counters with locking space for additional merchandise, checkout counter with conveyor belt, open access corner kiosks, and adjustable-height enclosed shelving. All these cash wrap counters can easily be customized as per the need of a retail store.
2. Cash register counters
Retail checkout counters must accommodate more things rather than just the bulky cash registers. Modern retail store cash register counters have digital POS systems. Whereas some of these counters have pullout cash draws, traditional recessed tops, and other styles to provide handheld touchscreen POS systems and optimize visual merchandising space. These cash register counters can also be customized in a specific display as per the requirement of a retail store.