What Features Should a High-Quality Checkout Counter Have?
Views:203 Author:Site Editor Publish Time: 2019-08-26 Origin:Site
To create a perfect retail environment, having a settlement of high-quality checkout counter plays a vital role for you. This is one such area where all your customers will be coming into face to face interaction with you to pay the price of their purchased products. Some of the shop owners choose to add their most demanding or latest products on the checkout counter to make them as a center of attraction for the coming customers. But it does not mean that your product will be sold right at that moment!
You need to make some efforts to add your display with an attractive touch of finishing as in creating a longer-lasting impact on the customers. Here we have brought about some standard and significant features of a checkout counter for sale for you: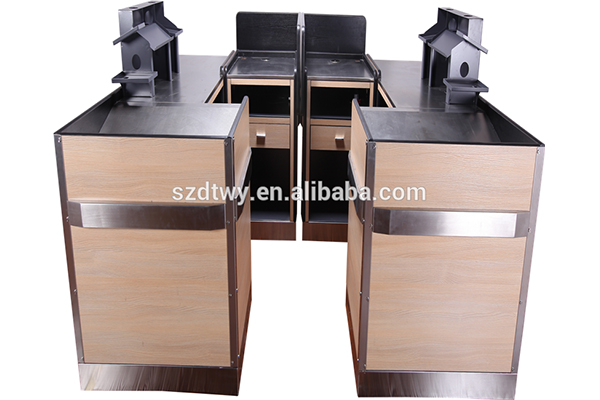 Checkout Counter Uses Each Single of Space
Most of the retailers take into account the large sizing of the countertops as compare to others. The sizing of the counter depends typically on your store size or the business you are running. If in the condition you are stuck into some small sizing space, then you must maximize every single inch of it. You can favorably choose alternate for the countertop decals that often get stick with the surfacing. It won't be taking any space.
Checkout Counter Makes Your Product Universal
We never take the checkout counter as a significant place where you can introduce your product straight away to the targeting market niche. If you want to make your display successful looking for others, you should make the use of products that can be used by every single customer who makes your way to your register. You can visit different grocery stores and figure out what kind of accessories or the product you view on the counters. This can be either magazines or some candies or even key chains.
Checkout Counters Don't Feature Your Entire Line of Product
Another significant feature to highlight in the checkout counter Manufacturer is that they will never feature your whole line of product. People mostly favor buying the products from the checkout counter in an impulsive manner. They give a quick look over the item, make a decision in seconds, and follow the process of the transaction. Over the counter display, select one item on which you want to focus and avoid any other product.
Final Verdict
Well, the features or we would say the benefits of the checkout counter with conveyor belt are remarkable to achieve because this medium gives a chance to highlight your product in an impressive manner for the coming customers. Checkout counters are available in so many shapes, sizes, and designs out of which you can opt the one that matches best with your store environment and turns out to be attractive looking. We are sure this piece of the article might have given you enormous information in this regard.
So are you ready to add checkout counter in your shop?